I did it.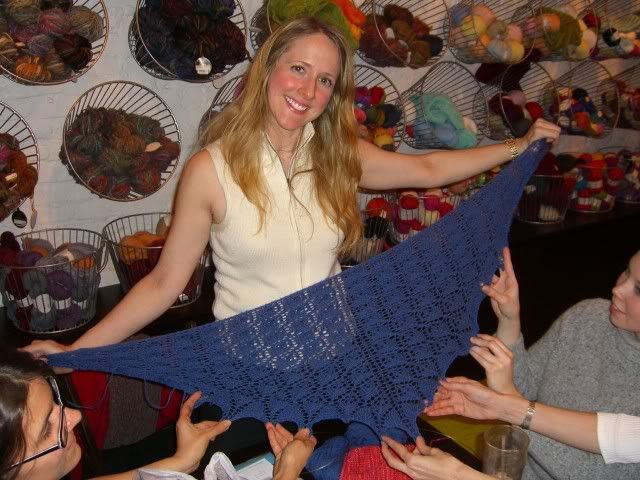 I really didn't think I could. Or would. Lace? Give me a break.
I decided in haste. I waffled too long on what to do so, pressed for time, I randomly picked...something. I'd heard about FBS for a while. I knew people had completed it. Why not me?
A pattern I didn't have, of course. Out of yarn I didn't own. Come on, ya'll ~ all that freaking fiber catching dust around my apartment you'd think I'd take the opportunity to utilize some of it, wouldn't you?
Nah. Yarn makes nice decorations. Who needs tchotch-cas?
Slap some gold on me please. Throw gold at these other Spiders too, for their projects and their support.
Stephanie wrapped up her FBS within an hour of my final stitch.
Iraida made it in time with her gorgeous fair isle socks.
Carrie had to do some quick maneuvering late in the game, but Ella pulled through splendidly.
Sarah's sumptuous super-secret and oh-so-spectacular project not only scored gold, it actually competed in Torino!
Julsey's Angelica arrived in all her loveliness.
Skylar's Kiri trumped the competition. Welcome to continental knitting!
Someone toss Silver over Kaitlyn's way for her noble Shetland efforts. Interference kept her from the gold, but not by much.
Did I miss anyone? If so, tell me and I'll edit!! Ya'll know, it's late in the day and all and the curses are flying around here, as usual. I keep up where I can!
Thanks all around for everyone's amazing support during this effort!
If you're really paying attention, you'll notice that FBS here isn't sporting her blockiness, just some helpful Spider-stretchiness. These photos, courtesy of Stephanie (thanks Steph!), were taken moments after completion at The Point. You recall, I'm sure, that Camera bit the dust, so this is as good as it gets for now.
You'll just have to trust me that much Remedial Lace Blocking occurred at VillaOSOH last Saturday (Ben will attest to it ~ he was much befuddled finding his bed suddenly strewn with limp and soggy noodles of navy yarn. Poor guy.)
Thanks to that other Stephanie for the Lace Blocking tutorial (and to Veronique for forwarding it) and for spearheading this Fabulous Olympics Fiasco!
In other OSOH knitting news, Tweedy is blocked and ready for seaming! By the time I get home tonight, the back will be dry. Yea, seaming! Can't wait to try out my new tricks. Then, the trauma of developing a neck. Stay tuned for that exciting chapter.
I whipped out a white cabled hat on Saturday night from a skein of Debbie Bliss white Cashmerino Super Chunky and wore it for 2 days straight. The cables are my own little pattern, nothing special though. I'll show you sometime (anyone want to come take a picture of me?)
I have another skein of that yarn kicking around here without a project. I thought I'd need it for the hat but one was sufficient. Ideas for one skein of lush white cashmerino superchunky?
Then last night I started a baby boy hat that's tripping along well. I made it smaller than Pinklette (who engulfed Baby head) but hopefully not too small. I shall call him Blump.
SC? Neglected little SC patiently awaits my attention. She is there, scowling at me nightly. Don't feel bad. I petted her yesterday. After squishing her under my improvised "blocking boards."
Oops.