Since my mother lives in Kentucky now, I often find myself winding my way to that middle piece of the country. Some people apparently consider that odd mid-area The South, but I (and most other people who actually lived in the real South at some point) consider it to be the eastern border of the mid-west. Perhaps there is another name for it I don't know (anyone?) but I've yet to find a description that properly fits.
But it's not The South, that I can say for sure. Kentucky possesses a culture uniquely its own. Yes, the natives speak with a twang, but it's not precisely a Southern twang. Possibly it is a bluegrass sort of intonation. And I've lived in Kentucky myself (although granted not in the last quarter century) and I have family there, so I'm not completely tossing these observations from left field.
There are also certain products particular to the region. Take Big Red for example. Ever heard of it? It tastes like liquid bubble gum and it stains virtually everything a washed out pink. When my family moved from Kentucky to the Deep South, the loss of Big Red seriously traumatized me for a while. Trust me, despite the map that claims Big Red has dispersion in the South, it's not there anywhere I ever lived. And there's no consolation for a 7 year old who loses her favorite soda, believe me.
Now, though, Kentucky has Diet Big Red.

Guess what came home in my suitcase.
I am also constantly baffled by the weather in Kentucky. In a Kentucky state park years ago, I battled the Blizzard of '04. My poor red Sundance hatchback lost a wind shield wiper over that one. I spent 40 minutes jammed into a giant snowdrift and didn't realize until years later just how lucky I was to get out of there. But once reaching my destination, I wasted 4 days of my Senior Spring Break snowed in with about 40 ultra-geeky (in a bad way), massively repressed honors society representatives. With no escape and lousy food.
Although the Kentucky weather remains strangely out of sync to me (and usually does it's best to defy all those claims of "Southern-ness") it held out well this last time.
Conditions were lovely to see Mom's new house for the first time (check out the pool!)
It's usually either searingly hot or hideously cold when we visit, but somehow my short jaunt remained temperate this time.
And once again, I witnessed no bluegrass. I saw plenty of Wall-Marts, a few lovely horses and scary amounts of roadkill, but no bluegrass. And I heard no bluegrass music either. But we ate a lot of fast food. More fast food than you want to think about. Let's not even go there ~ my tummy queezes a little just thinking about it.
Kentucky possesses yarn shops, nestled right in there with the fast food. Mom seemed, at first, happy enough to tag along with me to inspect the bluegrass yarniana (I swear I'm going to get her to crochet again someday) so we wandered over to Sophie's Fine Yarn Shop right away.
Can I just say, there was a lot of yarn.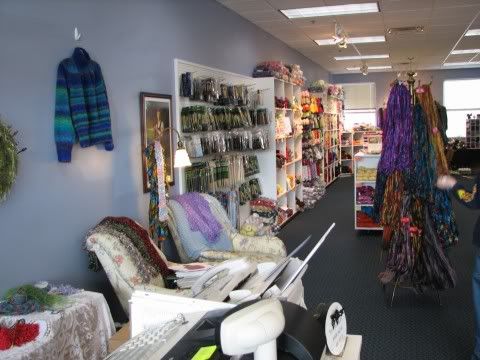 Upon entering the store, Mom, possibly overwhelmed by fiber frenzy and frightened by the slightly crazed look that crept into my eye, opted to return to the car while I paced the aisles, touching everything that didn't scuttle away.
Here's the haul from the three shops I visited. From Sophie's, I scored the green yarn you see in the photo (Berroco Lullaby, on sale! 6 skeins) and the sparkly blue stuff in the lower left corner (Filatura Di Rosa Brilla, not on sale, 6 skeins). These would be great for some summery tops!
The ladies at the store were so nice and allowed me to caress yarn to my heart's content. They even posed for photos!
After Sophie's, we headed for the nearby Dee's Crafts Store (couldn't find a website, sorry!) This is more of an all-purpose everything crafty shop, but stocked surprisingly lovely yarn in addition to the requisite acrylic cacophony. I left that store with some blue Noro, upper right in the photo above (4 skeins ~ on sale, 20% off!) for some kind of fancy scarf. I also bought 2 skeins of Ben-hued Noro for a replacement hat (or 2 ) for the one he lost (again). I knit up one hat for him on the flight back to New York. Since he suddenly needed it for the snow in Utah, it vanished from my hands as soon as I wove in the tail (which I never did on the last one) and I haven't gotten my hands on it for a photo since.
Driving down some random city road, we stumbled across the Knit Nook just the next day!
Just look at that cute little shop bunny! I did a couple of illegal vehicle maneuvers to reach the store (yippee for rental cars to abuse!), but I was glad I did (by this point, Mom had resigned herself to the fiber fury and just shook her head occasionally with a smile as I tried to explain the beauty of hand-dying or the forced her to touch skeins).
I finally broke down and followed Amanda's example, purchasing some Rowan Summer Tweed (love Tweed!), but mine is shaded a salmon pink, as you can see in the photo up there. I should (should!) have plenty for a cute summer top. The Knit Nook shop owner is a doll ~ she wound all my yarn while her darling baby slumbered by a stack of skeins.
Wait'll you see what I schlepped back from Utah!